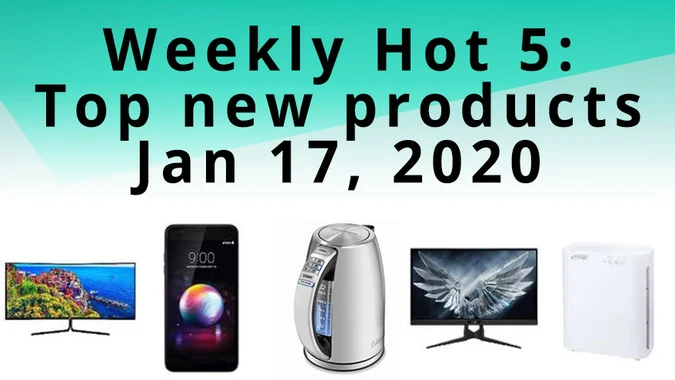 Getprice's Weekly Hot 5 for January 17, 2020
Get the low down on the top products on Getprice
Welcome to Getprice's new weekly round-up! Every Friday, we're revealing five of Getprice's most popular products from the last 7 days to make it easy to discover what other people are searching for, and explore the hottest new items.
These are five of the top trending products for the week of January 17th, 2020:
---
LG K30
RRP: $199 | Official LG product page
The LG K30 is a temptingly affordable Android phone that could be perfect for seniors or children. Like with any budget mobile, the specs on this phone are probably best described as 'basic' (it's best not to compare it with its high-end counterparts), but at $200 it'll certainly be able to handle the day-to-day necessities, like making phone calls, checking emails and surfing the web. With a 13-megapixel camera, it should be capable of taking adequate shots to share on social. It runs on Android 7.1 (aka Nougat) and is claimed to provide a reasonable battery life of up to 6 hours of constant use. All in all, a basic phone that will get the job done… but perhaps not much more than that..
Click here to find the best LG K30 prices in Australia
---
Ionmax Breeze Ion420 Purifier
RRP: $299 | Official Ionmax supplier product page
With the recent Australian bushfires, it's easy to guess why the Ionmax Breeze Ion420 Purifier is on our most popular list. The Ion420 is able to purify the air in your home via an integrated 3-in-1 filter, made up of a pre-filter, HEPA filter and carbon filter. This device also includes a negative ioniser and UV-C sterilising light (which may not be super effective) as an added bonus. Suitable for areas up to 35 metres squared, that makes it well-suited for apartments, bedrooms, study areas and similar smaller-sized spaces. The filters are not reusable, however the device does have a filter replacement indicator that lets you know when they need changing. Air purifiers seem like a must have item this year and the Ionmax Breeze Ion420 looks like a dependable choice.
Click here to find the best Ionmax Breeze Ion420 Purifier prices in Australia
---
Gigabyte Aorus FI27Q-P 27-inch ELED Gaming Monitor
RRP $999 | Official Gigabyte product page
If you're a gamer that loves their RGB LED, then you'll love this monitor. The Aorus FI27Q-P boasts one of the most advanced LED-lighting systems, with a dedicated RGB Fusion 2.0 app that allows you to create your own gaming ambience by adjusting multiple lights on the monitor's back side. Specs wise, the FI27Q-P features a 27-inches QHD panel (2,560 x 1,440 resolution) in a 16:9 aspect ratio with a 165Hz refresh rate and 1ms response time. It also has a DisplayPort High Bit Rate 3 (HBR3) port, allowing gamers to enjoy HDR and 10-bit colour at the same time. It's also ready for both AMD and Nvidia graphics cards thanks to the inclusion of both AMD Radeon FreeSync, Nvidia G-Sync technology With all that going for it, it's no huge surprise that this gaming monitor was popular this week.
Click here to find the best Gigabyte Aorus FI27Q-P Gaming Monitor prices in Australia
---
Cuisinart CPK-17A Kettle
RRP $199 | Official Cuisinart product page
Costing almost $200, Cuisinart certainly seems to be asking a a steep price for this kettle. However, the CPK-17A is no ordinary kettle -- it's a fully programmable one that does a lot more than most counterparts. That includes the option to choose from six preset temperatures for different varieties of tea, giving you the perfect cuppa every time. With 1500 watts of power, heat-up time is nice and short and, uniquely, the kettle is able to be removed from the base for up to two minutes without going into standby mode. There is also a dedicated Keep Warm option that, with the kettle placed on the base, can maintain a set temperature for up to 30 minutes. We'd never thought we'd be impressed by a kettle, but we have to admit it: this one's pretty cool.
Click here to find the best Cuisineart CPK-174 Kettle prices in Australia
---
Kogan KAMN34FXQULA 34inch LED Curved Monitor
RRP: $599 | Official Kogan product page
If you're looking to upgrade to a bigger screen, or perhaps wanting to consolidate two screens into one, the Kogan 34-inch LED curved monitor is a surprisingly affordable choice. This ultrawide monitor has an immersive 1500R curved display, 5ms response time and a 144Hz refresh rate, meaning it's up to scratch for PC gaming too. It's built with a high-quality Samsung panel and a sleek exterior design that's VESA wall mount compatible. This monitor seems to offer enough flexibility for multiple uses -- it could be a powerhouse of productivity, stunning gaming monitor, or even serve as a smaller TV… although we'd note there's no built-in tuner or streaming smarts, so it will need to be plugged into an external player of some kind.
Click here to find the best Kogan 34inch LED Curved Monitor prices in Australia