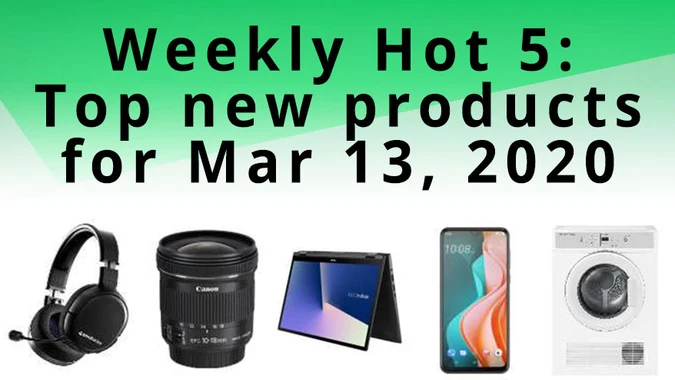 Getprice's Weekly Hot 5 for March 13, 2020
Welcome to Getprice's regular weekly round-up of trending products! We've listed the most popular products that Getprice users have searched for this week across multiple categories.
Check out the top products for the week of March 13, 2020:
---
Asus ZenBook Flip 14 UX463 14 inch 2-in-1 Laptop
RRP $2,299 | Official Asus product page
ZenBook Flip 14 is the versatile and powerful all-rounder that's your perfect creative partner. On the higher end of the scale, this nifty 2-in-1 is packed with an Intel Core i7 processor, 16GB of RAM and a massive 512GB of internal storage. Along with its main display, the ZenBook Flip 14 boasts a second innovative LCD touchscreen ScreenPad 2.0 that's integrated into its touchpad. An impressive piece of machinery to make the top 5 this week.
Click here to find the best Asus ZenBook Flip prices in Australia
---
HTC Desire 650
Not available | Official HTC product page
The HTC Desire 650 is another budget smartphone to make our top 5. The Desire 650 has a 5-inch screen with a resolution of 1280 x 720 pixels – not great but expected from a low-price smartphone. It also sports a 13 megapixel rear camera and 5 megapixel front-facing camera which will capture some decent photos. The HTC Desire 650 is a great all-round budget phone, perfect for quick cheap replacement or for a student.
Click here to find the best HTC Desire prices in Australia
---
SteelSeries Arctis 1 Wireless Headphones
Not available | Official SteelSeries product page
The SteelSeries Arctis 1 Wireless is one of the most versatile headsets going - it's a catch-all headset that can be used with multiple devices wirelessly and has outstanding audio quality. Thanks to the USB-C wireless dongle, this versatile headset is compatible with almost every device, making it a worthy investment.
Click here to find the best SteelSeries Arctis 1 Wireless Headphones prices in Australia
---
Fisher & Paykel DE6060M2 Dryer
RRP $529 | Official Fisher & Paykel product page
With winter around the corner, it would be the sensible choice to start preparing now by purchasing a dryer for the up and coming darker and rainier days. This Fisher & Paykel dryer comes with some amazing features, including a delay start so you can set the start time to suit your schedule, and an auto-sensing mode which detects moisture level to prevent under or over drying. This 6kg vented dryer also comes with wall brackets and a control panel that can easily be inverted, so it can be mounted on the wall or placed on the floor – a great addition to any household.
Click here to find the best Fisher & Paykel prices in Australia
---
Canon EF-S 10-18mm F4.5-5.6 IS STM Lens
RRP $449 | Official Canon product page
Widen up your photography horizons with a Canon EF-S 10-18mm F4.5-5.6 IS STM lens! This impressive wide-angle lens is perfect for the camera bag, with a lightweight design and a price tag to match. It offers an excellent panoramic viewpoint for great landscape images, and ticks a lot of boxes when it comes to performance. It's the perfect step up from a regular kit lens, especially for budding landscape photographers, and perfect for anyone with an EOS camera with an APS-C sensor.
Click here to find the best Canon EF-S Lens prices in Australia