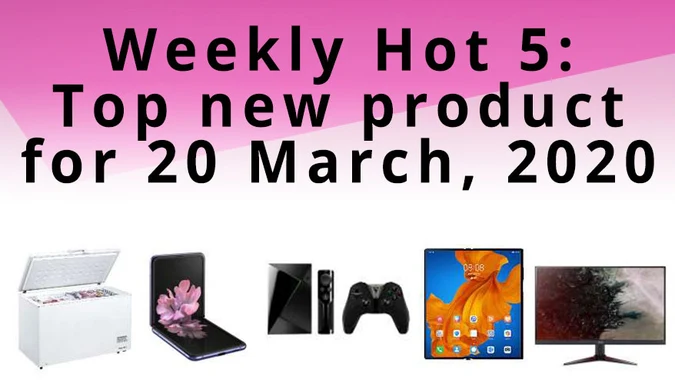 Getprice's Weekly Hot 5 for March 20, 2020
Welcome to Getprice's regular weekly round-up of trending products! We've listed the most popular products that Getprice users have searched for this week across all categories, from tech to consoles and more.
Check out the top products for the week of February 21, 2020:
---
Samsung Galaxy Z Flip Mobile Phone
RRP $2,199 | Official Samsung product page
First off the rank is the soon-to-be released Samsung Galaxy Z Flip – a clamshell-style foldable smartphone with a 6.7-inch display that folds in half. Sure to turn heads, the Galaxy Z Flip is comparable to the newly released Moto Razr that also comes with a hefty price tag. This smartphone is compact, measuring only 87.4mm in length when folded, making it infinitely easier to hold and pocket than regular smartphones. It also features an ultra-thin glass screen (instead of plastic), 12MP F2.2 ultra-wide camera and a 1.1-inch AMOLED 'Cover Display'. Due to hit our shores on April 3, you can pre-order yours today and skip the que by clicking the link below:
Click here to find the best Samsung Galaxy Z Flip prices in Australia
---
Huawei Mate Xs 5G Mobile Phone
RRP: $3,999 | Official Huawei product page
Another expensive foldable phone on our list this week – the Huawei Mate Xs 5G mobile is in a league of its own with its ability to expand into a nifty tablet. Thanks to Huawei's forward thinking, the Mate Xs 5G foldable screen is on the outside so you're not stuck with a secondary smaller display. One major downside, it comes without access to Google's apps and services – that, combined with one of the highest price tags you will see on a smartphone, requires you to place a lot of your faith in Huawei. The Mate Xs 5G is due to be released on April 9 and you can pre-order yours today by clicking the link below:
Click here to find the best Huawei Mate Xs 5G prices in Australia
---
Nvidia Shield TV 2017 Media Streaming Device
RRP: $329 | Official Nvidia product page
The Nvidia Shield is an Android-based microconsole that is incredibly powerful – capable of 4K media and game streaming, in-built Google Assistance, hands-free voice commands if you get the Shield Controller and a year of software enhancements from Nvidia to give it the added boost from the previous model. This versatile gaming platform is generally more expensive than competing streamers but you can find this streaming-box at a great price through our store.
Click here to find the best Nivdia Shield TV prices in Australia
---
Heller CFH316 Freezer
Not available | Official Heller product page
Due to panic buying brought on by the coronavirus, people are now starting to mass purchase freezers in order to store their excess goods. Because of this, it comes as no surprise that the Heller CFH316 has made it on our list this week. With a large 316L gross capacity, water drain outlet, variable temperature control and three removable baskets, it's a good choice if you're in the market for a chest freezer. Whilst we couldn't locate the Heller CFH316's RRP, we consider this to be a budget freezer and you can find it on our website for around $500.
Click here to find the best Heller CFH316 Freezer prices in Australia
---
Acer Nitro VG271P 27inch LED LCD Monitor
RRP: $399 | Official Acer product page
With a lot of us working from home for the foreseeable future, many are in need of a new or additional screen to maximise their productivity, so it makes sense that the Acer Nitro VG271 monitor made it on our list this week. The VG271 is a 27-inch IPS monitor, with a 1080p resolution and 144Hz refresh rate. According to reviews, this monitor also also impresses with its low input lag and motion handling, which is great for gaming. Recommended retail price is $399 but you can save up to $50 on that price through our retailers.
Click here to find the best Acer Nitro VG271P prices in Australia